If my memory serves me correctly, wasn't he dis-proven?
Authority bias
Authority bias is the tendency to attribute greater accuracy to the opinion of an authority figure (unrelated to its content) and be more influenced by that opinion.
Maybe there will be more information in the next video.
I searched around for the story about the recall paper but it's hard to find information in English.
I don't know anything about the website, but there is a video embedded in this page. Maybe someone here can understand it? Is he saying that he needs to go in the other room to be able to recall something?
"After the disruption erupted, journalists found a blank paper Shahi initially used to trace what he memorized, which was barely visible from distance."
Yes He was caught by some Nepalese media but Nelson meet him day before yesterday .Now Nelson is saying is real . full interview is coming out soon in his YouTube channel
When will people be impressed by what people do with what they read more than what or how they read?
Reading all the books in the world will only be as useful as what the reader does with the knowledge - with full focus on contributing it to others.
I`ll believe Shahi, if he beats Alex Mullen. He reminds me both Andrey Slyusarchuk and Nadia Camukova
From Nelson's youtube account
Turns out, it's looking more and more likely that Bijay Shahi was a fraud (as suspected)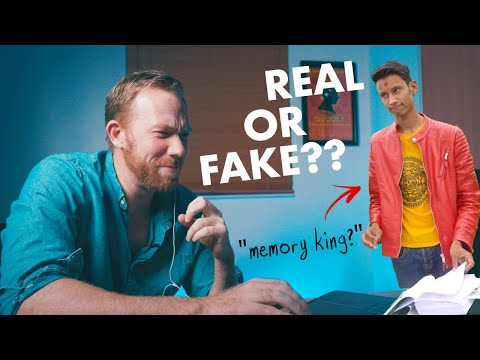 I will remain skeptical and will wait for the video on Nelson's site, for now I will suspect the one posted by Bijay Shahi it is a deep fake.
Fake. At the end, Bijay asked Nelson to turn around, not look and to turn the camera around. Like what?
He was yelling his words so someone could type it for him. So many ways he could fake this.
Bijay is still a fraud and fake. I can literally memorize a page faster than him.
Me too, @albinoblanke
I can literally, Memorize that page fastly than bijay sahi.
But yeah,
I can't able to write exact word to word but I can write in my own language.
I really never watched this type of comedy content before in nelson's channel. (More than 1 hour)
In the end , I got nothing. (But really, got many many laughing through whole video
)
Hey Josh, so what i read through the thread and my google search, he claims to memorize a book in like 25 minutes or so? And then he claims to recall it too? I'm not saying he is a fraud or not but there have been some people who have done it in the past. Swami Vivekanand and his story of the librarian is very famous. I'll post the link below. Also isn't there something called Quantum Reading. I think it originated in Japan and they claim the same thing. In the past few years, there were also centres that taught Mid-brain activation in India wherein children were taught to read blindfolded. Or recognise the colour of an object blindfolded.
Here's the link of the Swami Vivekanand story : A short story about Swami Vivekananda...
Swami Vivekanand is also fake.
People need to stop going around promoting all these frauds. We live in the goddamn 21st century, we have a drone on frickin mars right now.
Try to be more scientific people, be realistic.
Me either i dont believe anyone unless it is scientific proven .
I think this comment section comment is pretty observant:
Blockquote15:40 girl takes the phone out of her pocket 22:58 leaves the room when the "memorization" part is done [ basically bj was narrating word by word] 26:32 notice how nelson tore the page, the edges aren't straight 39:49 the page nelson tore and the page he holds in his hands don't even match these little things might have been missed by you all, so it's in your hands to believe in it or not basically, no hatred towards bj but, it is what it is, the above analysis was from my part, might be true, might not be true
Wasn't he caught with impressions in the paper that could be traced? I didn't watch the whole video, but where did the paper come from and why couldn't it be examined?
Yes, he was. Nelson even mentions it in his new video.
Josh, look at the new video. At one point, Bijay actually asked for Nelson to turn around and not look. He even asked the camera to be turned around so he could not be filmed when Bijay was memorizing.
You have been in the memory community for years, I know that you don't believe this.
Shahi says he have divine power if someone looks there goddess will be angry (I know its ridiculous)
most Important thing is he says he got rejected by Gunnies book of world record
( He applied for 165 sequences words in 30 seconds )
which he have mention in video 1:09:01 (he whisper Nepali )
I clicked through that part and was wondering if it was because he needed to hold the paper towards the light at a certain angle.
Or could someone in another room have recorded his speech, written it down, and swapped the papers while the camera was turned? (Maybe under the door?)
Josh if you look at my earlier comment I think its all the proof needed.
The paper is different no denying it.